Photo from SandboxAQ Official Website
Jennifer Sovada is the President of SandboxAQ's Public Sector, a position she has held since January 2022. SandboxAQ focuses on government issues at the nexus of quantum physics and AI to help solve challenging problems beyond the limitations of classical computing.
Who Is Jen Sovada?
Jen Sovada was a former Air Force Officer whose career in Intelligence focused on higher-end technological and quantum capabilities.
As a woman of technology, Sovada was first exposed to technology through her father who was an early adopter, giving her firsthand experience and understanding of the power of technology. This made her pursue a career path toward technology to help people improve their health and quality of life.
Jen Sovada at SandboxAQ
Jen Sovada's public sector team at SandboxAQ focuses on introducing quantum technology to the federal government. They make it possible by educating the U.S. government and international governments on quantum technology and informing which use cases apply to them.
On the legislative side, Sovada and her team work with the U.S. government to develop quantum strategies, from export control to software bills of material.
While education is the gateway to increasing diversity, women comprise only 28% of the STEM workforce. Sovada aims to address this problem by incorporating diversity in the industry.
At SandboxAQ, they aim to address the gender gap by creating a workforce that welcomes women and diverse groups to make the AI + quantum revolution attainable and by paying tribute to all women in STEM professions today.
SandboxAQ held events such as Diversity in Quantum Dinner and TechTrek Summer Camp to support this mission. They discussed the importance and challenges of diversity in quantum and delivered AQ-related activities, career advice, and mentorship to participants.
Career Timeline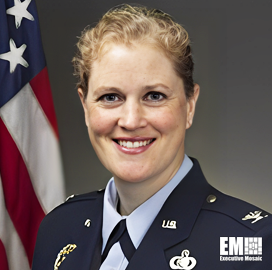 Photo from CSFI
Jen Sovada has significant years of service in the U.S. Air Force, which she started in 1994. She was appointed to multiple responsibilities, including innovation and change, the career development of over 35,000 Airmen, and communication and transparency for the Defense Department, the intelligence community, and the Air Force.
Here's Sovada's career timeline after serving in the Air Force:
President of the Public Sector at SandboxAQ (January 2022 – Present)
Adjunct Assistant Professor at Georgetown University (January 2023- Present)
Adjunct Instructor and Consultant at Integrity ISR (December 2019 – August 2022)
Head of Federal Teams, Sandbox@Alphabet at Alphabet Inc. (September 2021 – December 2021)
Head of Federal Teams, AI Unit at X. the moonshot factory (September 2021 to December 2021)
Senior Vice President (November 2020 to August 2021); Chief Future Officer (December 2019 to November 2020) at MissionTech Solutions
Affiliations
Jen Sovada is currently affiliated and a volunteer at nonprofit organizations, including:
Chairman Of The Board Of Directors at Defense Entrepreneurs Forum since January 2017
Member Board of Directors at Intelligence and National Security Alliance since January 2023
Board Member and NIU-Alumni Association President at National Intelligence University Foundation since June 2020
Advisor at MissionLink Next since November 2021
Advisory Director at the Cyber Security Forum Initiative since December 2019
Board of Advisors at Tombolo Institute since July 2020
Awards
Jen Sovada was one of the Excellence in Mentoring Award Winners in 2018. She has mentored four proteges in the MilitaryWomen eMentor Program since 2008. In 2019, she made it to the list of Forbes Cognilytica's Top 50 AI Influencers in Government. Sovada was also named one of Women in Technology's top female leaders in 2021.
Latest News About SandboxAQ
The Biden-Harris Administration recently released its National Cybersecurity Strategy (NCS) as a more comprehensive approach to address the increased complexity of the cyber threat landscape. Quantum computing can break some of todays' most ubiquitous encryption standards, stressing the need to replace services, hardware, and software that are easy prey to quantum computers.
Sandbox, one of the leading developers and the most qualified provider of PQC solutions, is committed to supporting NSC by helping the federal government prioritize the transition to post-quantum cryptography (PQC), become more crypto-agile, and protect the nation's national security, privacy, sensitive data, and critical infrastructure.
In November 2022, the Air Force Department awarded SandboxAQ Phase 1 Small Business Innovation Research contract to provide performance benchmarking and post-quantum cryptographic inventory analysis.
About SandboxAQ (Sandbox AI and Quantum)

Photo from SandboxAQ on LinkedIn
SandboxAQ is an enterprise SaaS company combining artificial intelligence (AI) and quantum technology to solve complex societal problems. It provides solutions, including post-RSA cybersecurity modules that bring enterprises to higher levels of security. These SandboxAQ modules allow post-quantum cryptography (PQC) in line with the current standards emerging in this field to help enterprises improve their cybersecurity.